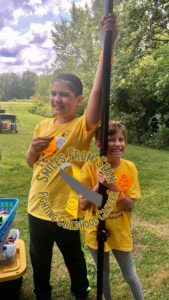 The proposed fund is Smiles from Sean project in the Children's Hospital of Pittsburgh.
Sean is approaching is 5-year milestone since his last cancer treatments. And since every year Smiles from Sean is raising money benefitting the children and families in the hospital where Sean received his cancer treatments, I thought of why not creating a fund that will honor Sean, and along the process we also want people to remember another child whom Sean met while going through cancer treatments, and coincidentally her and Sean shares the same birthday. Her name is Kaylee Kruise. While Sean is doing well, Kaylee was taken by cancer last year on February 12, 2021, after less than 3 years since her diagnosis.
Link below is the online fundraising page that we created hoping that we can raise our target amount and actually open the fund on summer of 2023 where it will mark as the 5th year since these two-childhood cancer heroes met, knew each other and their friendship began.
Looking forward for your support.
https://www.justgiving.com/page/smilesfromseanprojectinchp?utm_source=copyLink&utm_medium=one_page&utm_content=page/smilesfromseanprojectinchp&utm_campaign=pfp-share&utm_term=96b2fd9e2a55475da08e5d864f991eb9